Garcia outpoints Peterson, Lee-Quillin draw Danny Garcia (30-0, 17 KOs) remained unbeaten after a majority points win over fellow American Lamont Peterson (33-3-1, 17 KOs) on Saturday night at the Barclay Center in Brooklyn, New York.
One judge scored the fight a 114-114 draw while the other two judges had it for Garcia by scores of 115-113.
This was a non-title bout at a catch weight of 143 pounds, so Garcia's WBC and WBA light welterweight titles and Peterson's IBF belt were not at stake. Nevertheless it was a closely contested entertaining fight.
Garcia came out aggressive in the early stages, with body attacks, stalking Peterson, whose defence was tight and he was moving well.
Garcia missed a lot of his punches due to Peterson's movement and speed.
Garcia began throwing a lot more combinations in the middle rounds while Peterson was throwing one punch at a time.
Both fighters landed some solid shots as they exchanged in a good action 8th round.
Garcia landed some solid combinations in the 9th and again in the 10th but Peterson had a good 11th, nailing a tiring Garcia with hard shots, swelling up his right eye.
They both went for it in the 12th, exchanging punches to the head and body in an exciting finish.
Garcia said: "I knew it would be a tough fight and I told him you can't win a big fight by running.
"He came strong at me, because he knew he was losing on points."
Peterson was not happy with the decision and said: "I am not so sure I gave him the early rounds.
"He was missing a lot of punches and I was landing my jab. I would love a rematch."
Also on the card, WBO middleweight champion Andy Lee (34-2-1, 24 KOs) fought to a 12 round draw against former champion Peter Quillin (31-0-1, 22 KOs).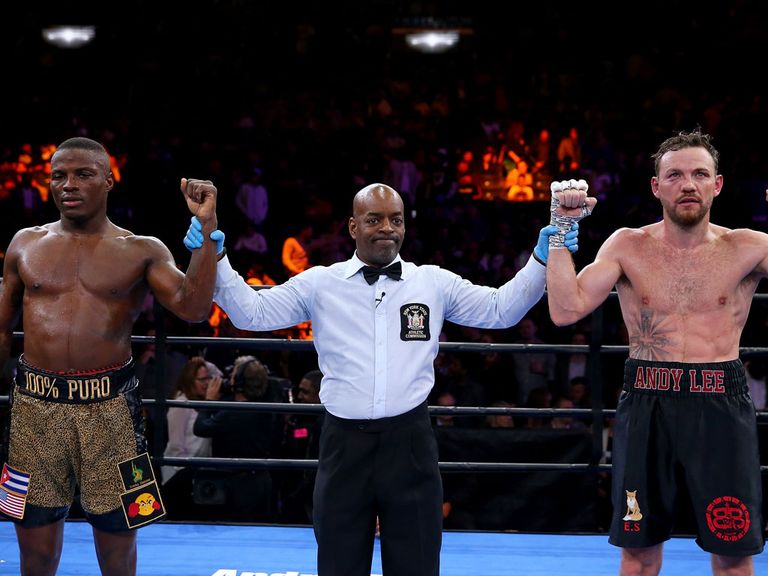 The scores were 113-112 for Lee, 113-112 for Quillin and 113-113.
Quillin got off to a strong start, dropping the Irishman in the first and third rounds, before Lee scored a knockdown in the 7th and finished strong while the American appeared to tire late on.
The fight had been scheduled to be for Lee's WBO title but it became a non-title fight when Quillin failed to make the 160lb limit at the weigh-in on Friday.
Quillin nailed Lee with a hard right that sent him down at the end of the opening round. He was badly hurt and barely made it to his feet.
Just as the bell sounded to end the round, Quillin landed a left hook to further trouble Lee.
In the second, Quillin landed a flurry of blows which opened a cut over Lee's left eye before a right-left hook combination sent him down again in the third. But Lee got up and hurt Quillin with shots of his own.
Quillin hurt Lee again with more combinations in the fourth and fifth rounds, however, Lee soon got the upper hand.
A right hook sent Quillin to the canvas in the seventh but the round ended before Lee could capitalize.
Lee seemed to outwork Quillin for the remainder of the fight, but Quillin managed something of a revival in the 12th as both exchanged hard at the end of the fight.
Lee said: "It was a hard fight to score. He had the knockdowns, but I boxed consistently, especially down the stretch.
"He got me early, because I was being lazy. I understand, with two knockdowns, people felt he won the decision. I could have done better tonight. If my next fight is Peter Quillin, so be it."
Quillin said: "There's a reason why judges are judges, they see it their way. I respect the decision.
"I'm grateful that I was able to get back up and fight. I came here to fight and I was able to go 12 rounds."