Khan outpoints Algieri in hard-fought win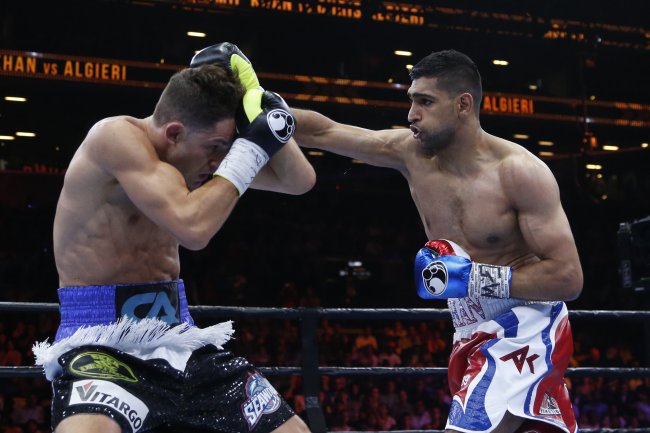 Two-time world champion Amir Khan (31-3, 19 KOs) defeated American Chris Algieri (20-2, 8 KOs) by unanimous decision on Friday night at the Barclays Center in Brooklyn, New York.
The Brit fighter had to battle hard to win the welterweight contest by scores of 115-113, 117-111 and 117-111.
Khan controlled the opener with movement while landing some solid punches, but Algieri landed a right hand that stopped him in his tracks in the final seconds of the round.
In the second round, former WBO light welterweight champion Algieri went on the attack again and was backing Khan up with punches to head and body. But Khan was able to score as he was moving backwards. Algieri looked much bigger and was trying to use his size advantage to outmuscle Khan, who used his speed and counter punches to keep Algieri at bay.
Algieri had a strong fourth round and continued to land right hands, but Khan was able to take the blows and began to pick off his aggressive opponent at the halfway point.
By the ninth round, Algieri's left eye was swollen and a left hook seemed to hurt the American in the 10th round. As a game Algieri pressed forward until the final bell, Khan moved and scored with combinations to seal a points victory.
Khan has now won his fifth fight in a row. For Algieri, he has now lost his second fight in a row after losing a one-sided decision to Manny Pacquiao last November.
Khan said: "He came to fight, wanted to win, had his home crowd, but I came here to win.
"The crowd really fired me up the last three rounds when Chris really came at me hard.
"I thought I worked well inside. I've never done a lot of work in the pocket like that and I plan to do more of that in the future.
"Chris gave it his all. This is the best Algieri we've seen in a long time, and if he'd have fought Manny that way, he might have won."
Next Khan wants a showdown with pound-for-pound king Floyd Mayweather, who plans to fight again on September 12.
"I think everybody knows Amir Khan wants to fight Floyd Mayweather," said Khan.
"I want that next. I'm number one World Boxing Council (challenger). He's the champion. So let's make it happen."
Also on the card, Javier Fortuna (28-0-1, 20 KO's) of the Dominican Republic, outpointed Bryan Vasquez (34-2, 18 KO's) of Costa Rica, by unanimous decision and won the vacant WBA super featherweight title.
Fortuna dominated the action with his fast combinations and movement to win by scores of 117-111, 117-111 and 116-112.
Japan's Takashi Uchiyama was recently elevated to the "super" WBA 130 pound champion.